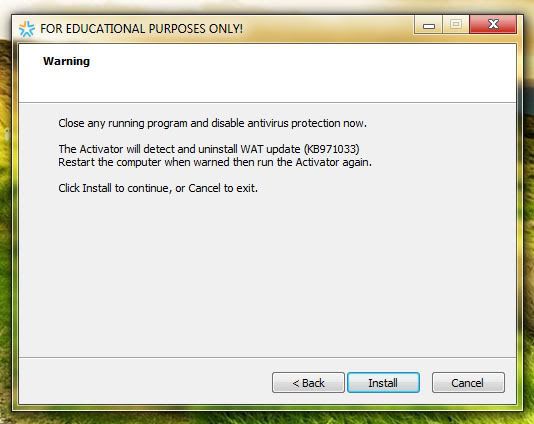 Features:
-extremely simple
-very easy to use
-loads of Product Keys and SLIC binaries to choose from (129 Product Keys, 39 SLIC binaries)
-works with windows 7 starter, home basic, home premium, professional, and ultimate
-works with 32-bit and 64-bit editions of windows 7
-works with systems detected as 'not genuine' (tested with expired trial versions)
-comes with windows activation technologies (kb971033) uninstaller (this update causes activation failure)
-resets any activation related file to their original state before activation
Changelog:
-improved windows activation technologies (kb971033) update detection and uninstaller (this update causes activation failure)
-macbook compatible bootsector installation (for GUID partition tables)
How to use:
-run the activator then follow all instructions
-choose any emulation mode
-option D is only for Motherboards with injected SLIC table in BIOS or Laptops with SLIC table by default!
-restart when prompted to do so
Notes:
-in case activation failed after restart, choose another emulation mode. the one you selected might not be suitable for your system
-for option A, B, & C, activation fails in some cases when you choose a SLIC that's same with your Motherboard/Laptop manufacturer (example: Acer SLIC on Acer Laptop). try using a different one
-for option D, it is required that you choose a matching SLIC to that of your Motherboard's/Laptop's
Download v4.0
thanks to regiesoriano08
Did you find it useful?
Like us on
facebook