Advance System Care Pro 4 0 1 Final
It's time to completely fix your slow PC!
Advanced SystemCare Free (formerly Advanced WindowsCare Personal) has a one-click approach to help protect, repair, clean, and optimize your PC. With over 100 MILLION downloads since 2006, this fantastic, award-winning, free PC repair software is a "must-have" tool for your computer. 100% safe with no adware, spyware, or viruses; a PC maintenance program that's incredibly easy to use.
Why waste money on expensive "registry cleaners" to fix your PC when Advanced SystemCare Free will repair, tune, and maintain it for you - for free!
What's new in Advanced SystemCare Free 4?
Improved engine for superior PC cleaning, repair, security, and optimization
Adopted with IObit's latest engine and improved program core structure, Advanced SystemCare 4 is now available delivering a more comprehensive and deeper system cleaning, repairing and optimization experience. In version 4 the security features are enhanced, protecting your PC from more security and privacy threats.
Whole new interface design and fantastic skins
Instead of having too many buttons and links that may make you a little confused with where to start in version 3, Advanced SystemCare 4 adopted an intuitive and stylish design that provides four major entrances in the main interface that lead you to four major functions "daily maintenance", "complete fix and tune up", "ultimate PC speedup", and "smart tools that may suit for your every need for system management". What's more, version 4 is providing as many as 10 fantastic skins that make the use of the software more enjoyable.
One click to solve as many as 10 common PC problems
Advanced SystemCare 4 inherits the ease-of-use from previous versions, with more powerful capabilities. This time with one click, it scans and repairs ten PC problems and protects your PC from hidden security threats, while V3 only supports eight. The newly added "Disk Scan" and "Vulnerability Fix" helps scan and fix disk errors and Windows vulnerabilities.
More than 20 dedicated smart tools for everyday PC maintenance
Replacing the original "Utilities" module in version 3, Advanced SystemCare 4 integrates IObit's latest Toolbox which has more than 20 dedicated smart tools for everyday PC maintenance or advanced needs, including tools for system cleaning, optimizing and repairing, tools for security enhancement, and tools for full control over the system.
Speed up your PC with enhanced Turbo Boost
Note only "Turbo Boost" has taken on a new look, which makes the configuration process clearer and easier to understand, but also the power of "Turbo Boost" is more intensive. With more unnecessary background processes and services are detected and shut down, and more RAM is released, your PC will run ultimately fast.
Monitor your PC performance in real time with shortcut to quick fix!
Another cute addition to Advanced SystemCare 4 is the new performance monitoring bar. It keeps monitoring your PC and rates its performance at four different levels based on the core indicators. In a glance, user will have a general idea about their PC's status and how the resources are being used. More than that, the performance monitor will suggest what actions should be taken using Advanced SystemCare and will provide a shortcut to take the action immediately to improve your PC performance.
Key Benefits
Extremely Easy to Use
Completes its work with just one click! Scans, repairs and secures your PC in one minute.
Next-generation Free Windows XP/Vista/7 Registry Cleaner and System Optimizr
Safely cleans registry junk, compacts registry bloat and defragments the registry for blistering-fast performance.
Quick and Extensive System Clean-up
Boosts your system's performance with Advanced SystemCare Free, the powerful free registry cleaner by cleaning missing files, destroying unwanted files, deleting obsolete files, and removing junk files. Supports deep-cleansing of more than 50 types of junk files.
Speeds Up PC Performance and Internet Access
Tunes up Windows by releasing the built-in power of your system. Dramatically improves both system and Internet performance by up to 400%.
Enjoy That New PC Feeling Again
Whatever version of Windows you're running, enjoy that "good as new" speed usually only experienced on a brand new PC.
Powerful Hard Drive Defragmentation
Fast, powerfully and incredibly effective Disk Defrag function to defragment hard drives - up to 10 times faster than other defragmentation tools.
Defends PC Security with Extra Protection
Secure your PC - quickly and easily. Scans and removes spyware and adware using up-to-date definition files. Prevents spyware, hackers and hijackers from installing malicious items on your computer. Erases and updates your PC's activity history with this powerful free registry cleaner. Security and Privacy assured!
Fixes Multiple System Errors
More than a mere free registry cleaner - keeps your PC stably and running at peak efficiency.
Safe and Free
100% free with no spyware or adware! Advanced SystemCare is a safe and trusted PC protection and maintenance solution from a leading software vendor.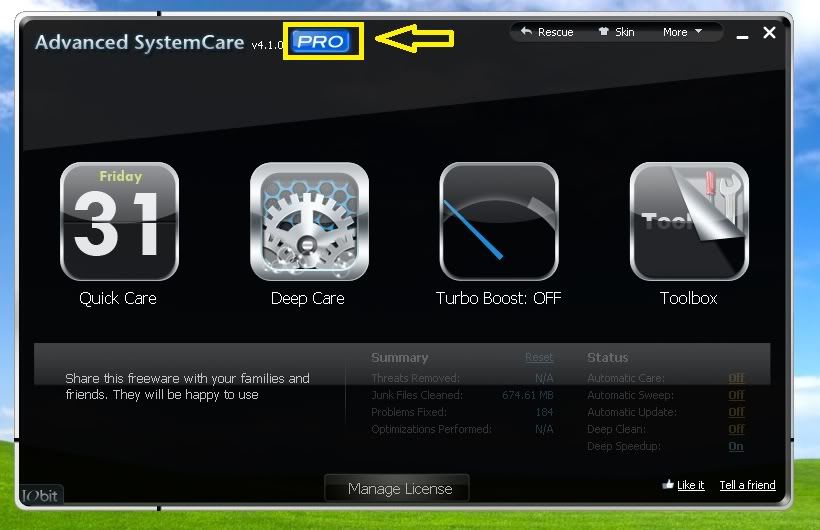 Download
Like us on facebook